Great Albums 1996: Outkast - Atliens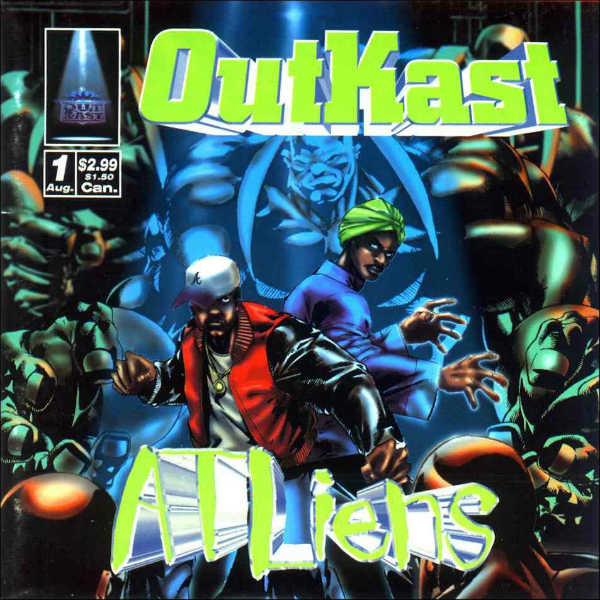 Google Images: Outkast Atliens 1996
August 27th 1996 Outkast releases second album "Atliens"
As the series on 1996 albums continues, a time where it was heavy in the east vs west coast beef during a dark period in the genre. There was duo from the south, Atlanta GA that its. This duo was busy focusing on planting their flag on the land called hip-hop. An album that rose from the bottom of the map and became an a very influential album of the times.
Outkast released their second album on August 27th 1996, the same day Aaliyah dropped her second album as well. 1996 released some heavy hitters from the genres of R&B and Hip Hop. Outkast definitely showed up to play. Like many of us who loved hip-hop and grew up either in the north east or the west coast. Some of us was busy taking sides, either you was down with the east coast boys Bad Boy (Biggie) or you were a down with the homies from the west, Death Row (Tupac).
These was some heavy times my friends, but hip-hop kept on going and Outkast brought us some heat with there sophomore effort "Atliens". Two years earlier we experienced some tough rhymes and word play from their debut album"Southernplayalisticadilliacmuzik". Atliens continue on with tradition, However this time around the aesthetics were different from the duo, their style was more was of a New York swag. This time around we see a change in style, no more kangols, jersey or baseball caps from Dre later on known as Andre 3000.
We see the rise of the turbines and dashikis shirts sported by Dre, and the smooth pimp swag style from Big Boi. There was a change in their style and also a change in the tones of their rhymes from being play boys from the south. To more introspective thoughts, futuristic themes, out of this world in their rhymes on the second LP.
The album cover is an illustration of a comic book cover and t
he theme of the album is that Big Boi and Dre are aliens in a land of Atlanta making their own way. In the video for from first single
"Elevators"
a young man could be seen reading the atliens comic book in the video. And the future comic book type vibe could be heard through out this album.
Second single "Atliens" comes with the outer space vibe and southern playa type rhymes meshed together. Big Boi and Dre ride the hell the out of this beat, they have a flow like no other. When you think of southern hip-hop, it is more laid back, depending on the artist, lyrics may seem a little relaxed no too much in depth.
Outkast was the exact opposite, they still made the music that made you want to groove, but also have you sitting there thinking like what did Dre just say? or oh wow Big Boi! And that is what I remember most about this album: Take this verse from Dre"True I got more fans the average man , but not enough to last me, to the end of week, I live by the beat, like you live from the check to check, if you don't move your feet then I don't eat, so we like neck to neck" - Dre Verse from Elevators*
At that point I heard the difference in both artist on the same track and through the out album both rappers gives the listener two different perspectives but at the same time they are talking about the same thing. Atliens opens Big Boi and Dre up to be what we now know them as which is good lyricists.
The album boasted three singles "Elevators, Atliens, and Jazzy Belle" Outkast would go on to become very successful and eventually creating the diamond selling 2004 "The Speakerboxx/Love below album. Sealing the duo as one of the best selling hip -hop groups in history. Their debut was good but Atliens open up a world and lived up to name Oukast.
Definitely highly recommend check out this 20 yr old LP
Spotify : OutKast - Atliens