Remembering Left Eye
Google Images: Lisa "Left Eye" Lopes
"Dreams are hopeless aspirations of coming true, Believe in yourself, the rest is up to me and you"
Left Eye
I know, I Know I am a month late, but better late than never! fourteen years ago on April 25th 2002 Lisa "Left Eye" Lopes died in a terrible car accident. It is hard to believe it has been fourteen years since she passed away, I remember finding out the news on friday morning why getting ready for school. I was a college freshman at the time so as I was getting ready school, Magic Man the DJ said Left Eye from TLC has died in a car crash in Honduras.
Six months prior Aaliyah had passed in a plane crash down in the bahamas, and now Left Eye died in a tragic accident by the way of transportation as well. I could not believe that was happening again to another person like this. I was a kid who loved TLC in the early 90's and 2000's. As I am typing this TLC is playing in the background, and the song of choice is Creep.
Left Eye was an animated type person, her persona seemed to be the same outside group, I actually like what she brought to the group. Even thou she was not repected as a lyricist she could actually rap in my opinion. Her verse in waterfalls on the list for favorite rap verses. I don't care what people say, those lyrics was dope my friend.
She acomplished so much in her short thirty years on this earth, TLC is one of the best selling girl groups of all time. And the world was in shock when the group filled for bankruptcy and I will never forget the math lesson Left Eye gave on how a group so big could go broke.
Sometimes when I see Tboz or Chilli on TV it still feel weird not seeing Left Eye next to them, I could only imagine how it is for them two. Well one thing Left Eye behind her music and we will always have that, her legacy lives on. Lil Mama channeled Left Eye in the VH1 TLC bio pic and at times watching that film it seems Left Eye presence was there.
R.I.P: Lisa Left Eye Lopes 1971 -2002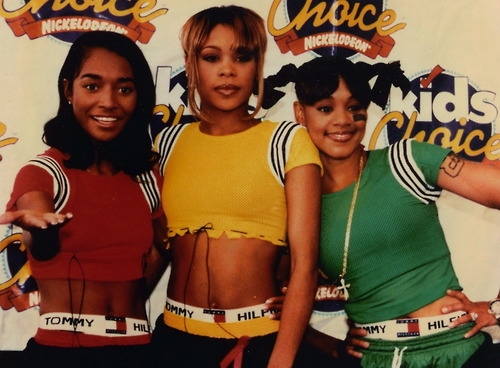 Google Images: TLC at 1995 Kids Choice Awards