Catch The Hook, Bring The Beat Back!
Picture Source: Google Images/billboard.com
So it has almost been a week since Beyonce released her song "Formation" and performed the song live at the Superbowl. And just a few days after all that transpired all hell has broken loose, right wing pundits on TV calling the song racist and anti-cop promotion. To an anonymous group coming together in the coming week to protest at the NFL headquarters to make sure that a Superbowl performance will not happen like that again.
I see and hear all the different conversations in regards to this song, and honestly I don't see why all the hurt feelings is going around. Well let me rewind that back, I do see why folks are being emotional about all this. Because for the first time in this woman career she made a song that was not a sing along in the car or a kids bop rendition for radio Disney.
She didn't make a song for the dance moms to make their daughters practice there dance routines to. Formation is not watch me nae, nae part twenty, This is not "Crazy in love, Single ladies, Ring the alarm, Say My Name or Survivor. Beyonce has always played it safe when it came to her career, for so long, she was the good girl.
America's sweet heart, the southern girl with a bright smile. She made people feel comfortable and safe. She was the next best thing to apple pie in some people eyes.
Well at some point you have to leave your comfort zone, and I think the public was not ready for this artist to leave hers. She started dancing around her comfort zone of her career with her last project. People had a problem with the song "Drunk In Love" and the over all theme of that album, which showed a more adventurous and sensual side of Beyonce.
But it didn't cause to much of an uproar like formation has, For so long folks have been sweating Beyonce to tackle the issues that has been plaguing the black community for a long time. And while many feared that it was falling on death ears. Beyonce has been paying attention and listening to what was being asked of her.
The formation video, has strong imagery being displayed, from Beyonce sitting on a police car, submerged in water, the little boy dancing in front the police officers, signs stating stop shooting us in regard to the black life matters movement. The costumes, the dancing, the sets being in big mansions in Louisiana location over all is a beautifully shot music video.
The lyrics is not so prolific in terms of being super political, the beats and some of the word play is a bit ratchet. And right now ratchet culture is winning, so from my perspective I receive from the song is that Beyonce understands, the market and understands her fan base. So she presented her views and her thoughts in her way.
I am not mad at that, if that is what it will take to get people to pay attention, then bring it. Now back to everyone else not being able to digest the song and super bowl performance. Overall the song celebrates southern roots and being proud of being black. I am not seeing the direct correlation of how that is racism, also I have not heard her say anything about being against the police.
The upset over attire of the dancers in the super bowl performance has me scratching my head as well. So the people are up in arms over the idea of acknowledgement of the anniversary of the black panther party. Those who are upset felt she was representing a political hate group who caused problems and chaos in the late sixties during the civil right era.
Really bruh? folks need to invest time into reading and studying history before listening to the rhetoric of what was perceived by the eyes of the ones up top. What Beyonce and the team did was not going against any codes or violation. No one was screaming kill the police or doing anything to cause havoc to the establishment.
At the end of day she was letting the world know that she is proud of who she is and where she came from, isn't that something we all should be doing?
Anyways, Beyonce fulfilled her own prophecy in this song
"You know you that b---h ,when you cause all this conversation".
Yes Beyonce you surely got us talking!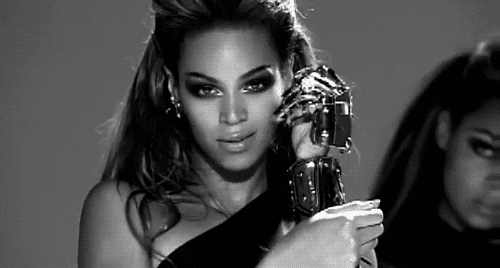 Gif Source: Google Image/giphy.com