Forever & Always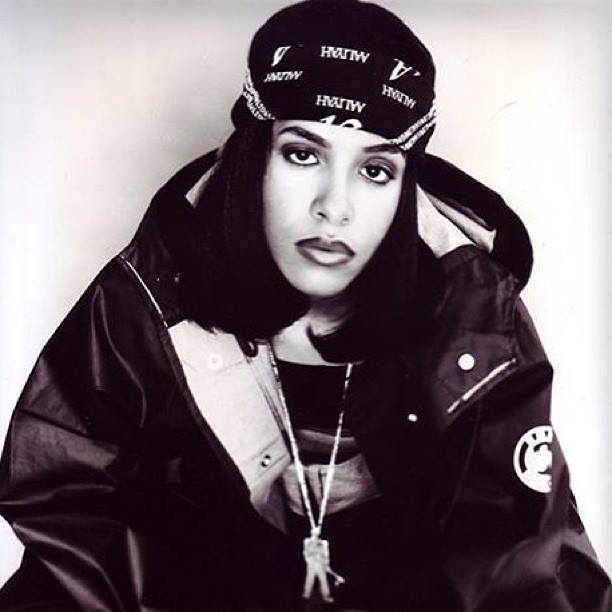 1994
On set of video for one in a million 1996

Well I know I am a week late but on January 16th it would have been the late singer Aaliyah 35th birthday. On that day I was traveling, and as I was in sky through out my flight Aaliyah was on my mind.
For those of you that don't know Aaliyah she was a American R&B singer who at the age of 22 perished in a plane crash along with eight others coming from a video shoot in the Bahamas on August 25th 2001.
If anyone knows me understands that I am and always will be a huge Aaliyah fan, in 1994 at the age of thirteen. I was your typical teenage girl in junior high who loved music and had crushes on boys and read Right On! magazine faithfully. On the old the music network called the box (
a video channel where people could call in and order their favorite music videos
) a video came on with this beautiful young girl wearing baggy clothes and sun glasses singing a cool groove (90's lingo).
The song was titled "Back & Forth" featuring R. Kelly (
yeah, yeah I know I didn't like him then at point that was the best thing about him he produced Aaliyah but she moved on to better things
). After seeing the video I had to know about this singer so later on in the summer of 1994 Aaliyah was every where, her album debuted that year and I had it and it was on every since.
In a eight year time span Aaliyah had three platinum albums, movies and was on her way to being a mega star. But on August 25th 2001 her life was cut short in a plane crash. Even though I didn't know her personally, I still was felt the pain of her death, she was one of the top artist of my generation. Aaliyah music is what I grew up on she was only two years older than me so when she passed at twenty two I was only twenty. She was like a peer, her death was and still is great lost in the music industry in my personal opinion.
In 2014 she would have been thirty five years old, the average person stresses over turning thirty. Aaliyah didn't get a chance to celebrate milestones she didn't make it to twenty three let alone twenty five or thirty. I will be thirty three this year and I embrace it with open arms and everyone should be thankful for each day that they get.
It would have been awesome to see her make it to her thirty fifth birthday, to see what her career would have been. Would she have been still been making albums or took the Will Smith route and became a full time actor. So many things we will always wonder, what could have been of Aaliyah career in the entertainment industry.
For me when comes to listening to Aaliyah music, I will always be the same shy young girl who has her heads phones on sitting on her bed with a big Aaliyah poster over her head, reading the latest of issue of right on! magazine Listen to.
"Age ain't nothing but a number, one a million & Aaliyah"
well that how It will always be in my mind
Forever & always an Aaliyah Fan: Happy Belated birthday
R.I.P: Aaliyah Dana Haughton, and also R.I.P to her father Michael Haughton who passed in 2012
may father and daughter forever be together in peace